Sprott
Precious Metals Watch
May 17
Gold's Haven Status Refreshed as Trump's Turmoil Wounds Stocks
Gold traded near a two-week high as the disarray engulfing Donald Trump's White House boosted the commodity's allure as a haven, with equities in retreat and investors scaling back the odds of the Federal Reserve tightening policy next month. Other precious metals fell.
April 25
What Will it Take to Get This Gold CEF's Discount to Par
Last week, this blog noted that the Central Fund of Canada (CEF) was a great way to buy gold and silver bullion at a discount.
April 25
UPDATE 1-China's net-gold imports via Hong Kong more than doubles in March
China's net-gold imports via main conduit Hong Kong more than doubled month-on-month in March, data showed on Tuesday. 
April 20
This Levered Gold Mining ETF Looks Super Scary
The Direxion Daily Junior Gold Miners Bull 3X ETF (JNUG) is trading at a significant premium to its net asset value, possibly the largest in its history. 
April 18
Gold's Top Forecaster Says Prices May Hit $1,350 by Year-End
Gold will end the year higher, spurred by faster inflation and political tensions in Russia, Syria and North Korea, according to Intesa Sanpaolo SpA, the best forecaster for the metal last quarter. 
April 15
Gold imports up since demonetisation: Black money turned white, then yellow
January-March 2017 has been the best fourth quarter in terms of gold imports since early 2013. 
April 14
3 Ways Donald Trump Is Making Gold Great Again
Donald Trump rode into the Oval Office with one simple campaign promise: to make America great again. 
April 13
Gold Rally Gets Feverish as Trader Survey Flashes Extreme Level
Gold investors are getting behind this rally. 
April 12
U.K. Royal Mint's Gold Sales Jump 20% Amid Political Turmoil
The U.K. Royal Mint's gold sales jumped by a fifth in the first three months of the year, according to figures obtained under freedom of information legislation. 
April 12
India Gold Imports Said to Jump 582% on Festival, Wedding Demand
Gold imports by India are said to have jumped almost seven-fold in March from a year earlier as jewelers stocked up anticipating a demand recovery during the wedding season that began this month and the auspicious Hindu gold-buying day of Akshaya Tritiya. 
April 11
Gold Gains With Treasuries and Yen on Haven Demand: Markets Wrap
Gold and Treasuries strengthened with the Japanese yen on lingering investor concern about global security risks and the path of U.S. interest rates. Crude struggled to extend this year's best run. 
March 31
Festival drives Indian gold demand; higher prices curb buying elsewhere
Gold demand in India rose this week due to a festival and as local prices adjusted to an appreciating rupee, while higher prices kept a check on demand elsewhere in Asia. 
March 27
Massive Canadian gold coin worth millions stolen from German museum
Thieves have broken into a Berlin museum and made off with 'The Big Maple Leaf', a giant Canadian-made coin worth millions. 
March 22
Investors Are Turning Bearish on the Dollar
The currency slid to the lowest since November on Wednesday, and options show investors are becoming more pessimistic on the greenback versus the euro and yen.  
March 14
Germany has got its gold back — They must know something we don't
An official announcement last week that the Bundesbank had pretty much repatriated half its gold reserves ahead of schedule has once again sent the rumor mill into overdrive. 
March 14
The Only Way to Stop Indians Buying Gold? Take Away Their Cash
It seems the only way to stop Indians from buying more gold is to take their money away. 
March 14
How Gold Prices Have Reacted to the Anticipated Fed Rate Hike
Gold prices rose 8.5% in 2016 to close the year at $1,150 per ounce.  
March 13
Gold slips on prospect of imminent U.S. rate rises
Gold prices slipped on Monday as the prospect of imminent interest rate rises kept them near the five-week lows touched last week.  
March 7
Hedge Funds Are Bracing for a Market Selloff
U.S. stocks have piled up $1.5 trillion in market value this year, but hedge funds are bracing for tough times ahead. 
March 7
India's Feb gold imports surge on pent-up demand-GFMS
India's February gold imports surged to 50 tonnes, up more than 82 percent from a year ago, on pent-up jeweller demand and as retail consumers ramped up purchases for weddings, provisional data from consultancy GFMS showed on Wednesday. 
March 6 2017
Credit Suisse: It's time to hedge against growing risks
Stock markets may still be rallying, but now is the time to find "insurance" for their portfolios amid growing geopolitical risks, said Robert Parker, senior advisor on investment strategy at Credit Suisse, on Monday.
February 16
Do Something! Dr Alan Greenspan on stagflation, indebtedness, despair and the role of gold
From The World Gold Council's Gold Investor Winter 2017 Edition
February 15
Gold Prices Lose Luster: Is the Recent Run-Up In Prices Over?
Gold futures are mixed this week, but some metals experts say it's time to sell. 
February 15
This Country Wants Everyone to Have 100 Grams of Gold
A landlocked nation perched between China and Kazakhstan is embarking on an experiment with little parallel worldwide: shifting savings from cattle to gold. 
February 15
Opinion: Money managers no longer hate gold, saying it's undervalued
The world's biggest and most powerful money managers usually hate gold. But not today. 
February 9
Could "Trump Anxiety" Save Gold Prices?
We're less than a month into Donald Trump's presidency. But Trump anxiety is already running wild. 
February 9
Germany Gets Its Gold Back Faster With Job Seen Done in 2017
Germany's Bundesbank is set to unite half of the country's gold reserves in its Frankfurt vaults by the end of 2017 -- three years ahead of schedule. 
February 8
Druckenmiller Bought Gold After Reversing November Stance
Stan Druckenmiller, the billionaire investor with one of the best long-term track records in money management, said he bought gold in late December and January, reversing the sale he made after the U.S. presidential election. 
February 7
Inflation and U.S. dollar bode well for gold prices
The steep rise in the U.S. five-year breakeven rate to nearly two per cent is a clear signal that inflation expectations are on the rise, and TD Securities says that bodes well for gold prices.
February 6
Gold ETFs Push Above Two-Month High
Gold and bullion-related exchange traded funds have strengthened to their highest numbers in over two months as traders turn to safer bets on concerns over the possible impact of President Donald Trump's policies.  
February 5
China stocked up on Swiss gold as turbulent year came to a close
China's gold imports from Switzerland soared at the end of last year when Beijing was struggling to defend the yuan and incoming US President Donald Trump was casting grave doubts about Sino-US economic ties. 
February 4
Why the Dollar Is Likely to Fall This Year
Politicians have been known to shed their campaign promises quicker than college kids shedding their inhibitions on Spring Break. 
February 3
CHARTS: Gold price propped up (only) by Western investors
The latest report by The World Gold Council on global trends in 2016 showed a modest overall increase in demand for the metal, but that was solely on the back of investor purchases of ETFs, primarily on Western markets. 
February 3
Gold's Trump Card Isn't Trump
Gold these days is a bit like the Democratic Party: Tweets from President Trump will help stoke a rally, but it really needs to rebuild its base. 
February 3
Gold Demand Rises to Three-Year High on Political Upheaval
Gold demand rebounded to a three-year high in 2016 as investor concerns over political issues including Brexit spurred demand for a haven. 
February 1
Gold Pares Drop as Fed Keeps to View for Gradual Rates Increases
Spot gold pared declines after the Federal Reserve left interest rates unchanged and repeated that it anticipates rates will rise gradually. 
january 31
Gold surge on Trump uncertainty may keep going in February, history shows
Gold prices are rallying to start 2017 on concern President Donald Trump will institute protectionist policies and weaken the U.S. dollar. 
January 31
How to Profit from Trumponomics
While Donald Trump's election has altered a number of aspects of the economy, investors cannot ignore economic trends that were in place before the election, says Joe McAlinden, founder of McAlinden Research Partners and former chief global strategist with Morgan Stanley Investment Management. 
January 31
Gold spikes after Trump says other countries take advantage of the US by devaluing their currencies
Gold is up 1.4% at $1,212 per ounce following a series of comments from the Trump administration that zeroed in on the foreign exchange market. 
January 31
Gold Gains as Trump Shocks Markets by Doing What He Said He'd Do
Gold rose for a third day, set for its best month since June, as President Donald Trump fired the U.S. acting attorney general over his order barring entry by citizens from seven predominantly Muslim nations. 
January 30
How gold tends to perform in presidential inauguration years
Uncertainty in the markets set in on Friday as Donald Trump became the 45th President of the United States and that's likely to benefit prices for gold this year. 
January 26
Gold Exports to China Soar in Run-Up to Year of the Rooster
Gold exports to China soared in the run-up to the start of the Lunar New Year, with volumes increasing in December from major suppliers Switzerland and Hong Kong. 
January 26
Why the gold price might be set for a rebound
Gold prices have been under pressure ever since the rally in global stocks and dollar following Donald Trump's victory in the U.S. elections.  
January 23
Will Gold Shine On?
Gold is getting off to a good start this week. With the U.S. dollar wobbling and lingering worries about trade policies and economic growth, the precious metal climbed in recent market action. 
January 22
Price of Silver in 2017: Why It Could Bounce Higher
The silver market performed reasonably well in 2016, with the price of the precious metal picking up more than $2 to close the year at $15.88 per ounce.  
January 18
Fund Managers Burned by Last Commodity Slump Want Back In
The year-old commodities boom is drawing the attention of some pension and mutual funds that got burned when the last rally fizzled more than five years ago. They want back in. 
January 17
Nervousness over Brexit, Trump drive gold to fresh 8-week highs
Gold jumped to fresh eight-week highs on Tuesday as wary investors shied away from riskier assets such as stocks, amid nervousness ahead of a Brexit-focused speech from U.K. Prime Minister Theresa May and recent comments from President-elect Donald Trump. 
January 12
Gold pushes to $1,200 — and a much scarier world could keep it there
The world's looking a bit scarier in 2017, and that makes gold a lot more appealing. 
January 10
U.S. Mint: 15% Increase In First-Day 2017 Gold Bullion Coin Sales
Along with the paper precious metals market, the physical market is off to a good start as the U.S. Mint said it saw strong demand for gold and silver bullion coins on the first day of sales in the new year. 
January 10
Gold hits highest in over a month on weaker dollar, Brexit concerns
Gold rose to its highest in over one a month on Tuesday, buoyed by a weaker U.S. dollar and as fears that Britain will not have a clean break with the European Union stoked safe-haven buying. 
January 9
Hedge funds aren't buying into gold price rally
Gold jumped to a five-week high on Monday as bullion bulls made the most of sputtering stock markets and a weaker US dollar. 
January 6
Keith Neumeyer Discusses the Silver Manipulation Lawsuit
First Majestic's chief executive officer, Keith Neumeyer speaks out on his role in the silver manipualtion class action suit including various banks. Neumeyer shares his thoughts on the silver price rigging case and shares what he plans to do about it. 
January 6
RBC Sees Gold Averaging $1,245/Oz In 2017
RBC Capital Markets looks for gold to average $1,245 an ounce in 2017 and $1,303 in 2018, according to a report released Friday. 
January 6
Palladium jumps on bets government spending, tax cuts will boost car sales
Palladium has soared away from its peers this week on bets that the autocatalyst metal, sold down at the end of last year, will benefit if tax cuts and higher government spending in the major car markets of China and the United States boost auto sales. 
January 5
Gold Traders Most Bullish in a Year After Dire End to 2016
There's one thing many gold traders and analysts agree on, now is a great time to own bullion. 
December 29
Trump's Pick for Budget Chief Liked Gold, Had Dim View of Dollar
President-elect Donald Trump's pick for budget chief, Mick Mulvaney, has been an active investor in gold and gold-mining stocks, often seen as a hedge against collapsing currency. 
December 29
Gold Lures Investors Worried About Trade Wars and Trump Tweets
The Donald J. Trump era is marking a new age for gold as an investor safe haven. 
December 28
How Have Mining Stocks Performed in 2016?
Donald Trump's recent victory in the US presidential election initially resulted in fear among precious metals investors. As that fear subsided, precious metals and mining stocks slowly started falling.  
December 22
What Mining Giants From Barrick to Teck Are Watching For In 2017
It's been a turbulent year for miners, with metal prices starting near multi-year lows as executives drew from a common playbook: slashing spending, costs and debt. 
December 13
Gold Bounces From Near 10-Month Low Before Fed Decision on Rates
Gold bounced from its lowest close in 10 months before the U.S. Federal Reserve's meeting to set interest rates amid unanimous expectations for the first increase this year. 
December 2
Asia Gold-China premiums hold near 3-yr high, cash crunch curbs Indian demand
Gold was sold in China at about $24 an ounce above the international spot benchmark this week. Premiums went as high as $30 last week, the most since January 2014, according to Thomson Reuters data. 
December 2
Deutsche Bank to pay $60 million to settle US gold price-fixing case
Deutsche Bank has agreed to pay $60 million to settle private U.S. antitrust litigation by traders and other investors who accused the German bank of conspiring to manipulate gold prices at their expense. 
November 30
Marc Faber's contrarian way to play the Trump rally
With stock markets surging after the election, Marc "Dr. Doom" Faber is looking to several trades that appear contrarian, including gold and emerging markets. 
November 16
India's gold traders on edge as Modi fights 'black money'
Some Indian gold traders are placing bulk, short-term import orders on fears that Prime Minister Narendra Modi might soon add curbs on overseas purchases of the metal to his withdrawal of high-denomination banknotes in his fight against 'black money', traders and jewellers said. 
November 7
Trump gold price rally evaporates
On Monday gold began to lose sight of the $1,300 an ounce level with December futures trading on the Comex market in New York falling more than 1.5% compared to Friday's close to exchange hands at $1,284.10 an ounce in early morning dealings. 
October 28
UBS's Teves: Still More Room to Add Gold to Portfolio
The FBI will be reopening its inquiry into Hillary Clinton's use of private e-mails while secretary of state. But once the U.S. gets beyond the election, the main driver for prices will, once again, be the Fed.  
October 24
India's Gold Buying Seen Falling to Seven-Year Low: Chart
Demand for gold in India, the biggest consumer after China, has been falling, with a Bloomberg survey of five jewelers and traders expecting the weakest year since 2009.  
October 24
As Yuan Sinks, Goldman Flags Scope for Gold Demand in China
Further weakness in China's currency and investors' concerns over the outlook for the nation's property market may spur gold demand in Asia's top economy, according to Goldman Sachs Group Inc., which made the forecast as the offshore yuan sank to a record. 
October 24
Money Managers Bail on Gold, Bracing for Higher Rates
Money managers are getting the jitters on comments such as those from Federal Reserve Bank of New York President William Dudley, who said he sees tighter U.S. monetary policy by year-end.  
Ocotber 18
Deutsche Bank to pay $38 million in US silver price-fixing case
Deutsche Bank AG has agreed to pay $38 million to settle U.S. litigation over allegations it illegally conspired with other banks to fix silver prices at the expense of investors, according to court papers filed on Monday. 
October 16
Gold Seen Rebounding Next Year Amid Low Real Interest Rates
We've not seen the last of the rally in gold, according to Toronto-Dominion Bank. 
October 14
How London's Gold Market, the World's Largest, Evolved Over Time
When the precious metals industry meets in Singapore next week for an annual gathering, one of the key topics will be the coming changes to how gold is traded in London. 
October 12
Positive Signs for Well-Positioned Junior Miners
Investors have seen a rise in the market capitalization of top junior mining companies on the TSX Venture Exchange by more than 100% compared to last year. 
October 11
Now may be the right the time to invest in gold
Despite recent falls in the price of gold, now may be the time to add exposure to the precious metal thanks to demand from Asia, experts suggest. 
October 9
Gold Rebounds From Worst Week in Years on ETF Bargain Hunting
Gold futures rebounded from the biggest weekly drop in more than three years as investors jumped into exchange-traded funds backed by the metal, lifting global holdings to the highest since 2013. 
October 4
Gold Prices Break Below $1,300; What's Next?
A stronger U.S. dollar Tuesday created some technical selling pressure in gold, which then led to some panic selling as prices were at one point down more than 2% on the day; however, analysts note that despite strong selling pressure, gold is still in a bull market. 
September 29
Hillary Clinton or Donald Trump: Which Candidate Is Better for Gold?
A win by this candidate could mean a wild swing higher, or lower, in gold prices. 
September 29
'A perfect storm:' Here are 50 slides that will get every gold bull psyched up
Gold has been one of the most impressive commodities of 2016, up 24% year-to-date.  
September 27
Safe-Haven Gold Down On Perceived Clinton Debate Victory
Gold prices are moderately lower in early U.S. trading Tuesday, following Monday evening's U.S. presidential debate between Hillary Clinton and Donald Trump that saw Clinton win the contest, most market watchers reckon.  
September 21
Gold seen entering long-term bull cycle as asset bubbles pop
Gold will likely soar to a record within five years as asset bubbles burst in everything from bonds to credit and equities, forcing investors to find a haven, according to Old Mutual Global Investors' Diego Parrilla. 
September 20
Gold Bull McEwen Sees Prices as High as $1,900 by End of Year
Robert McEwen, one of the gold's industry's most unabashed bulls, is predicting prices could surge as much as 44 percent by the end of the year as confidence in the economy buckles. 
September 20
Gold Seen Entering a Long-Term Bull Cycle
Gold will likely soar to a record within five years as asset bubbles burst in everything from bonds to credit and equities, forcing investors to find a haven, according to Old Mutual Global Investors' Diego Parrilla. 
September 19
Central banks boost gold reserves as low interest rates bite
Central banks have boosted their gold stocks by almost 10% since the financial crash, reflecting its renewed attractiveness as a safe haven in an environment of uncertainty and low or negative interest rates. 
September 16
The Best Gold Investment to Make Now as Demand Soars
Gold has been one of the best-performing assets on the market in 2016, and demand remains strong.  
September 13
Yet Another Reason To Be Bullish Gold Right Now - Blackrock
As the gold market continues to hold onto strong gains for the year, the world's biggest asset manager has found another reason investors shouldn't give up on their their gold positions just yet. 
September 7
3 of the Best Gold Stocks to Buy Now
We love the profit potential in some of the best gold stocks right now – check it out… 
September 7
Gold Edges Higher as Dollar Falls
Gold prices edged higher on Wednesday, as investors debated the likelihood of an interest-rate increase before the end of the year. 
August 30
3 surprising facts you probably don't know about gold
Demand for gold during the second quarter of 2016 declined across the board, except for demand from only one source – which now accounts for more gold demand than another other source. 
August 29
Central Bankers Get Tired of Gold as Lower Exports Cut Cash
The biggest owners of gold are tiring of the metal. 
August 27
Jim Rickards: "There Will Be A War On Gold"
Following a recent keynote presentation at the Sprott Natural Resource Symposium, James G. Rickards, best-selling author and advisor to the U.S. Department of Defense and Intelligence Communities, was kind enough to share a few comments with the Sprott's Thoughts publication. 
August 23
Inverse relationship between gold, stocks has never been this extreme
The correlation between gold futures and U.S. stocks has never been more negative. 
August 15
Buy physical gold; central banks are on its side, Jim Rickards says
Gold Prices Gold prices have nowhere to go but up: Jim Rickards Sunday, 14 Aug 2016 | 8:01 PM ET|02:29 Gold prices can go nowhere but up as central banks around the world try their utmost to spur inflation, author and gold market expert Jim Rickards said Monday. 
August 14
Palladium & Platinum ETFs on a Tear: Will the Surge Continue? 
By now, the precious metals rally is known to all. The most popular precious metal, gold, initiated this momentum spurred by safe haven demand and dovish central banks across developed economies. 
August 13
Gold and Silver Dominate the ETF Charts
It has been a golden year for precious-metal ETFs. This year's top 10 nonleveraged ETFs by returns through July are focused on gold and silver, with all of them up at least 100% since the start of 2016, according to data from ETFdb.com, a site that provides information and analysis of the market. 
August 12
Goldman Sachs is squaring up against JPMorgan and HSBC to decide the future of gold trading
 There's a battle brewing in the heart of the gold industry, and some of the world's biggest banks are involved.
August 11
WGC Report Shows H1 Gold Demand Highest On Record
The latest Gold Demand Trends report from the World Gold Council (WGC) is now out with data supplied by London-based precious metals research consultancy, Metals Focus. It shows the highest level of H1 gold demand on record, largely on the back of investment demand - particularly in gold ETFs, which absorbed 580 tonnes in the first half of the year. 
August 9
Palladium at Year High, Driving Precious Metals on Chinese Cars
Palladium touched a one-year high, leading gains in precious metals, as stronger Chinese car sales added to concerns over insufficient supply of the commodity used to reduce pollution from vehicles. 
August 5
Gusto for Gold Mines
It's been a good year for gold. Gold spot prices hit $1,360 per ounce in early August, up 28% percent since the beginning of the year, buoyed by low interest rates and more recently, demand from investors seeking a safe haven from Brexit-related economic uncertainty. - See more at: https://www.thefinancialist.com/gusto-for-gold-mines/#sthash.m88qIeS4.dpuf
August 5
Gold futures sink the most in 3 weeks after strong U.S. jobs report
Gold futures tumbled Friday following a stronger-than-expected nonfarm-payrolls report that might provide the Federal Reserve sufficient evidence to consider resuming interest-rate hikes soon after a roughly eight-month pause. 
August 4
Silver-Coin Buffs Show Timing Is Everything in Demand Ebb: Chart
Coin collectors could teach investors a thing or two about buying low and selling high.  
August 4
Gold rises as Bank of England cuts rates, unleashes stimulus
Gold futures climbed Thursday following the Bank of England's decision to cut interest rates for the first time since 2009 and unveil a batch of stimulus measures aimed at stimulating the country's economy in the wake of the June 23 vote to exit the European Union. 
August 3
Investing in gold: Big players put money into the precious metal
Bullish calls on the precious metal as prices rise in a turbulent market. 
August 2
US Dollar Fell and Supported Precious Metals
The US dollar retreated on Friday by 1.3% against the basket of six major world currencies. The US dollar is depicted by the DXY Currency Index. 
August 1
Platinum Sales Win Over Gold, Silver as Q3 Kicked Off – U.S. Mint
After posting stellar sales so far this year, it seems the U.S. Mint's gold and silver coin sales are headed for a slump in the third quarter. Unless, investors preferred another precious metal instead. 
July 30
'Sell everything,' DoubleLine's Gundlach says
Jeffrey Gundlach, the chief executive of DoubleLine Capital, said on Friday that many asset classes look frothy and his firm continues to hold gold, a traditional safe-haven, along with gold miner stocks. 
July 27
'Gloom, Boom & Doom' economist pushes for gold
Marc Faber is like the horror movie star of investing. He sees the threat of money oozing out of 401(k)s, IRAs, savings accounts and pensions — a result of villains bludgeoning unsuspecting investors.  
July 26
BNP Paribas Raises Gold-Price Forecast But Sees New Downtrend
In a report released late last week, the bank's analysts said they now expect gold prices to average $1,245 an ounce, an increase of $285 from their previous 2016 forecast. At the same time the bank raised its 2017 forecast by $335 to $1,195 an ounce. 
July 26
Russia Adds 19 Tons of Gold to Reserves in June
The Russian Central Bank announced this week that its gold reserves had reached 48.2 million troy ounces (approximately 1,500 metric tons). The total included an additional 600,000 ounces (approximately 19 tons) of gold added in June.
July 19
Gold cuts gains on dollar strength after U.S. data
Gold cut some earlier gains on Tuesday, as the dollar hit a four-month high after data showed a surge in U.S. housing starts in June, although weaker equities provided support. 
July 18
After Brexit, ordinary Britons warm to gold as safe haven
When Britain voted to leave the European Union, the thoughts of Yorkshire teacher Grace Hall immediately turned to her family's bottom line. 
July 17
Gold, Trump and Rates: Bank That Foresaw Rally Flags $1,500
Gold is in a major bull market and may surge to more than $1,500 an ounce as low interest rates buoy demand and the U.S. presidential election looms, according to DBS Group Holdings Ltd., which foresaw this year's rally and is now advising investors to buy any declines. 
July 12
Poised for a 'gut check', gold's bull run is not over yet: Canaccord Genuity
This has been an incredible year for gold equities, with shares of most miners doubling or tripling off their lows in January. 
July 11
Japan's Gold Sales Jump Thanks to Abenomics Worries
Tetsushi Kudo, a 50-year-old office worker, bought a one-ounce gold coin this month for the first time. 
July 9
Gold has 'unlimited upside' because the Fed is 'confused' on policy: Trader
Gold just posted its longest weekly winning streak since July 2011, but if investors missed out on the recent rally, fear not. 
July 7
Gold Glimmers for Investors Seeking a Safe Haven
Global gold holdings topped 2,000 metric tons for the first time in three years as the Brexit fallout and speculation that U.S. interest rates won't rise anytime soon sent investors hunting for a haven.  
July 7
Global Precious Metals Comment: Upgrading gold expectations
Gold has likely entered the early stages of the next bull-run. 
July 7
Silver Is at a Two-Year Peak: What's Next?
Silver prices seem to be on a run over the past few days. Silver hit its two-year high of $21 per ounce on Monday, July 4, 2016. 
July 7
DoubleLine's Jeffrey Gundlach says gold is the place to be
Plus: The U.S. economic recovery that never was, millennials embrace investment caution, and financial terms you might be using incorrectly 
July 7
Top Gold Forecaster Who Changed Tack Near Bottom Sees More Gains
Gold's top forecaster, who in February abandoned her bearish outlook to correctly call bullion's surge, sees more gains in store before prices taper off by year-end. 
July 6
Gold Has Entered "A New Bull Run": UBS
As the British pound falls to a new 31-year low on expectations of rate cuts and the restart of asset purchase programs by the Bank of England, and as Japanese government bond hits new record lows, investors fearful of central bank helicopter money are seeking the cover of gold and its inferior cousin silver. 
July 6
Gold races to 28-month high, oil pressured as Brexit fears return
Gold rallied to its highest since 2014 on Wednesday and oil struggled to recover from deep losses, as renewed fears over the impact of Britain's exit from the European Union pushed investors toward safe havens. 
July 1
Gold's Shimmer Is Sign Of Dark Days Ahead
Market watchers around the world are struggling to figure out what is happening in our global economy. 
June 30
Goldman Changes Course after Brexit, Recommends Gold
Goldman Sachs has been infamous this year for its recommendations on gold.  
June 29
Gold builds on gains, heads for best first-half in more than 40 years
Gold edged higher Wednesday, trading near its highest level in more than two years amid long-term financial uncertainty following Britain's surprise vote to leave the European Union.
June 29
"You Want To Own Gold" Marc Faber Warns "Brexit Is The Excuse For QE4"
"If Brexit is used as an excuse, the central banks will print more money, QE4 in the U.S. is on the way and the depreciation in the purchasing power of currencies will continue," warned a vociferous Marc Faber said in a Bloomberg TV interview today from Hong Kong. 
June 28
Greenspan Warns A Crisis Is Imminent, Urges A Return To The Gold Standard
On Friday afternoon, after the shocking Brexit referendum, while being interviewed by CNBC Alan Greenspan stunned his hosts when he said that things are about as bad as he has ever seen. "This is the worst period, I recall since I've been in public service. There's nothing like it, including the crisis — remember October 19th, 1987, when the Dow went down by a record amount 23 percent? That I thought was the bottom of all potential problems. This has a corrosive effect that will not go away. I'd love to find something positive to say." 
June 28
There are now $11.7 trillion worth of bonds with negative yields
The total held as well as the average duration have surged in the wake of the Brexit vote. 
June 22
Why Brexit and FOMC Decisions Could Control Gold

June 20
Gold price: Hedge funds bullish bets highest since 2011
On Monday gold continued to bubble under the psychologically important $1,300 an ounce level following a volatile week where the metal briefly reached a nearly two-year high. 
June 15
Gold hits near six-week highs ahead of Fed statement, Brexit vote
Gold hit its highest in almost six weeks on Tuesday, rising on worries about a potential British exit from the European Union and expectations the U.S. Federal Reserve will not raise interest rates at its June meeting. 
June 10
Why Gold and Silver Posted Another Gain
Fear of an interest rate hike seems to have loosened its grip on the precious metals, as they have been surging over the past couple of days. 
June 9
Why big investors think it's time to hoard gold 
Fear is on the rise and so is the price of gold. 
June 8
What Is the Silver Supply and Demand Scenario?
In 2016 so far, silver has outperformed its precious metal peers. Silver has risen about 19.6% on a year-to-date basis while gold has risen 18%. 
June 6
Indian Gold Imports Said to Drop for Fourth Month on Slow Demand
Gold imports by India, which vies with China as the world's top consumer, tumbled for a fourth straight month as a 16 percent increase in domestic prices since the start of the year kept buyers away, according to a person familiar with provisional Finance Ministry
June 3
Gold jumps more than 2 pct after U.S. payrolls data
Gold surged more than 2 percent and was on track for its biggest one-day jump in more than a month on Friday after U.S. payrolls data fell well short of forecasts, boosting expectations that the Federal Reserve will stand pat on interest rates. 
May 31
Harvard, IMF economist: Emerging markets must go for gold
Led by Russia, central banks remained strong buyers of gold in the first quarter of the year purchasing 109 tonnes.  
May 26
Platinum and Palladium Markets Stay Volatile in 2016
Precious metals have been highly volatile in 2016. The unrest in the markets has buoyed precious metals as a haven investment. 
May 26
How Are Central Bank Demands Impacting Gold?
Gold has been falling, and the Markets have been taking a skeptical approach to the precious metal. But major banks such as JPMorgan Chase, Goldman Sachs, and HSBC are remaining optimistic on gold.  
May 25
Venezuela sells gold reserves as economy worsens
Venezuela's gold reserves have plunged to their lowest level on record after it sold $1.7 billion of the precious metal in the first quarter of the year to repay debts.  
May 24
Why Is JPMorgan Chase Positive on Gold?
After seeing three straight years of losses, gold (GLD) performed extremely well at the beginning of 2016. As gold's price continued to surge, many of Wall Street's largest banks (IYF) flocked to it.  
May 19
PRECIOUS-Gold slips to 3-wk low on Fed rate hike expectations, firmer dollar
Gold slipped to a three-week low on Thursday, extending overnight losses after minutes from a Federal Reserve policy meeting signalled the U.S. central bank could raise rates as soon as next month, boosting the dollar to multi-week highs. 
May 16
China to buy $90 billion gold vault in London
The Chinese state-owned ICBC Standard Bank (IDCBF), the world's biggest bank by assets, has agreed to buy Barclays precious metals storage business, including its state-of-the-art storage facility in London. 
May 16
Five Charts Show Why George Soros Is Investing in Gold Mining
Gold mining equities have become the darlings of the market, luring billionaire George Soros to buy a $264 million stake in Barrick Gold Corp. Bloomberg's index of 14 major bullion miners doubled this year after plunging 76 percent in the previous five years. 
May 16
Central Bankers' Wisdom Faulted as Gold Holdings Surge 25%
The great gold rush of 2016 is gathering pace. Holdings in exchange-traded funds have now surged by a quarter, with investors taking advantage of lower prices over the past two weeks to enlarge stakes on rising concern about central bank policy making worldwide. 
May 15
Platinum Seen Over Worst as Bulls Wager on Automaker Demand
There's a growing feeling in the platinum and palladium market that the worst is over. After dropping to the lowest in at least half a decade in January, prices since rallied back into a bull market as the outlook for continued low U.S. interest rates reignited the appeal of precious metals. The two commodities will climb about 20 percent through the end of next year, partly on higher demand from carmakers, according to 12 traders and analysts surveyed by Bloomberg. 
May 12
Gold Fund Buying Frenzy Spurs Demand to Second-Highest Ever
Gold demand surged to the second-highest level ever as investors piled into funds, doubling investment in the metal. 
May 10
What Boosted Franco-Nevada's 1Q16 Revenue?
Franco-Nevada (FNV) delivered GEO (gold equivalent ounces) of 106,621 ounces during the quarter.  
May 4
Why Is Goldman Sachs Still Bearish on Gold?
While investors worldwide have been interested in the performance of gold this year, Goldman Sachs, one of the top Wall Street banks, has remained increasingly negative on the precious metal.  
May 2
Gold Crosses $1,300 Threshold as Rates Outlook Undermines Dollar
After three years of being scorned, gold is making a powerful comeback.  
April 29
How Strongly Is the US Dollar Controlling Gold?
The US dollar and precious metals, especially gold, have been taking their price direction from each other. Moreover, gold is more dollar-dependent than the other way round.  
April 26
HSBC: Gold could explode if Britain votes for Brexit
Gold prices could explode if Britons decide to vote for leaving the European Union in the referendum on June 23 — also known as a Brexit. 
April 25
A Different Type Of Gold Miners ETF
It is not a secret that gold and silver miners exchange-traded funds are topping their physically-backed counterparts in significant fashion this year.
April 22
Why Did Precious Metals Have Another Great Day?
Precious metals have once again benefited from a fall in the US dollar.  
April 21
Gold hidden in secret vaults beneath the Bank of England worth $248bn
A fifth of the world's gold is hidden under London, worth an estimated £172 billion ($248 billion). 
April 21
BNP Sees Risk of Central Bank `Overreach' With $1,400 Gold
Gold may advance to as much as $1,400 an ounce over the next 12 months, according to BNP Paribas SA, which cited rising investor concern about the efficacy of central banks' policies to sustain growth. 
April 18
Silver Heads for a Bull Market as Prices Rally to 10-Month High
Silver is poised to enter a bull market after prices jumped to a 10-month high and as investors pile into precious metals, with top forecasters' staying positive on gold. 
April 17
Funds Are Betting the Gravity-Defying Gold Rally Isn't Over Yet
When it comes to gold, hedge funds are betting that what goes up will continue to go up. 
April 15
Apple recovered 2,204 pounds of gold from broken iPhones last year
As if Apple needed the cash, the company has discovered a way to make tens of millions of dollars off of old, broken, unwanted iPhones. 
April 14
Gold Demand Jumps in Japan as Sub-Zero Rates Spur Call for Haven
Gold sales surged in Japan through March after the country's move to set negative interest rates sent investors scurrying for a shelter, a further sign that global central bank policy of keeping borrowing costs low or below zero is stoking demand for bullion. 
April 11
Gold, the Emergent Hero in 2016: Is It All Just a Sentiment Play? 
Many analysts are comparing the current year's performance of gold and silver to their performances in 2008. 
April 11
Hedge Funds Abandoning Dollar's Biggest Bull Run in a Generation
Hedge funds are close to calling it quits on the dollar's best run in a generation. 
April 10
China goes prospecting for world's gold mines
Chinese gold miners are aggressively scouting for overseas acquisitions, encouraged by historically low gold prices that could help them scoop up assets cheaply. 
April 7
India Could Be Sitting on a Gold Mine
Gold is so popular in India that it's created an economic problem for Prime Minister Narendra Modi. 
April 6
London's $5 Trillion Gold Hub Getting Ready for a Major Overhaul
There's a competition brewing to figure out how the world's largest gold-trading hub can get bigger and better. 
April 5
Why Goldman's commodity chief wants investors to bet against gold
Gold futures have been among the best performers this year. But that hasn't stopped Goldman Sachs' head of commodities, Jeff Currie, from recommending that investors bet against the yellow metal. 
April 4
Clashing Views on Gold
In the first quarter, gold registered its strongest quarterly gain in 30 years. But what lies ahead for the metal? 
April 3
Gold Lovers Bet Party Isn't Over After 17% First-Quarter Surge
"Investment demand is there on the bullion end and obviously on the equity end as well," Maria Smirnova, a portfolio manager at Sprott Asset Management in Toronto, which oversees C$8.5 billion ($6.5 billion). "There's a sea change going on around the world with the realizations that the monetary policies have not been as effective as central banks had hoped. We don't see inflation. Rates are declining. That's positive for gold right now."
March 31
ETF Performance Report: Q1 & March
U.S. equities and stock exchange traded funds slipped on the last day of March, ending the month on a muted note after a wild quarter that pushed the markets into a correction before clawing back the losses on swift rebound. 
March 29
Gold's Rally Keeping Chinese Gold Demand Subdued
Gold imports into China from Hong Kong saw a slight boost last month, compared to its dismal start to the year. 
March 29
PRECIOUS-Dovish Yellen, softer dollar support gold near $1,240
Gold held on to sharp overnight gains on Wednesday, buoyed by a softer dollar and Federal Reserve chair Janet Yellen's remarks that the U.S. central bank should be cautious in raising interest rates. 
Sprott's Industry Leading Line-up
of Precious Metals Products
       *Also available on corporate class
Gold
24 hour $US Dollar price per ounce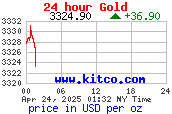 Silver
24 hour $US Dollar price per ounce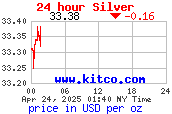 Platinum
24 hour $US Dollar price per ounce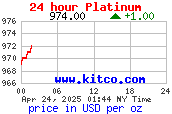 Palladium
24 hour $US Dollar price per ounce